Visualize with goals and track the progress of metrics you are interested in selected time period.
Our new feature "Goals" work both for your accounts and accounts set as competitors.
This feature will help you to set the desired metric's value, and plan the nearest activity in account, as well to see the progress and how effective your activity was.
Creating new goal you can chose account (yours or competitor), metric (followers, posts, interactions, likes e.t.c), set up desired value. You can select absolute ratio – total value of metric (e. g. you need 100 followers on account total), or incremental ratio. In this case value means you need +100 to number of followers at goal start.  After that specify the needed period for goal's implementation. Optionally you can name your goal and set repetition after completion and notifications about necessity of attention or goal accomplishment.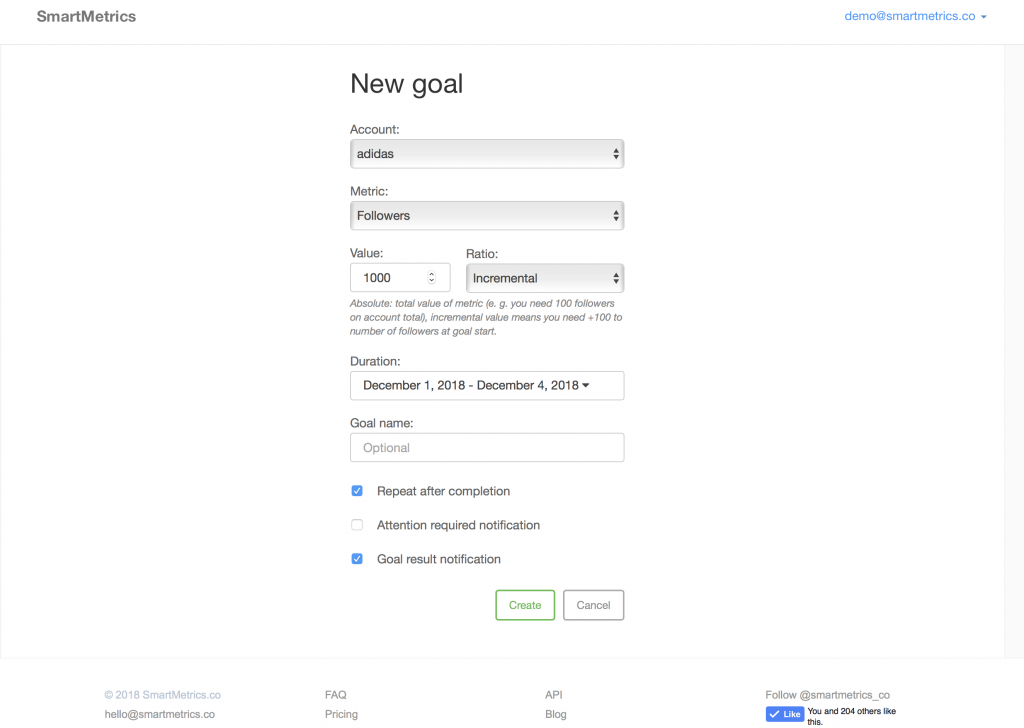 After setting your goals you can supervise their progress day by day. The progress are indicated by the percentage of goal reach, days left as well as pop up shows the gained numbers of metric from planned. Also every goal is marked in color. Green color means that your goal goes successfully and you have high possibilities to full fill it in time. Yellow color signalize that your attention needed, because you goal performs not good enough. Red color of goal bar requires your attention as soon as possible, success rate of your goal are very low.  If you on the step of goal creation click the function "attention required notification" you will get notification via e-mail i in case of yellow or red status of your goal.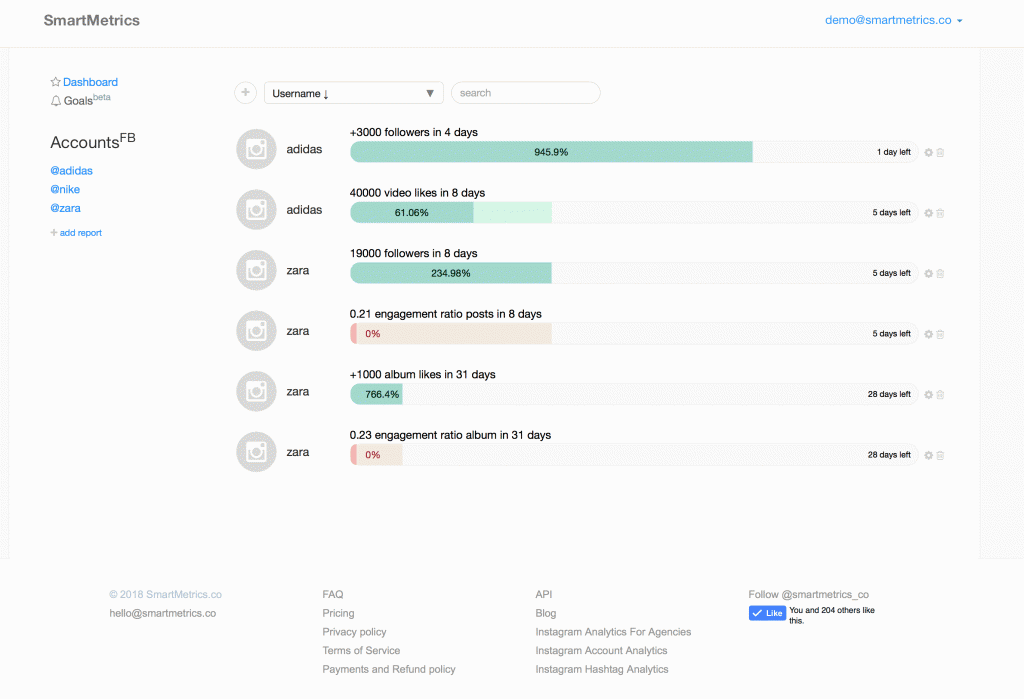 Semitransparent colour bar shows how many days passed from the selected period for goal realization. The full colour filling indicates the goal reach. In case of you goal bar has only full colour filling it means that goal realization goes to the day, and desired value of metrics achieved almost equable on the every day for the selected period.
Every goal can be changed up to your necessities. Just click on piktogramm of gear (on the right side of goal bar) and insert needed changes : value, ratio, duration and e.t.c Also you can delete goals that you do not need anymore (piktogram "bin" on the right side of the goal bar).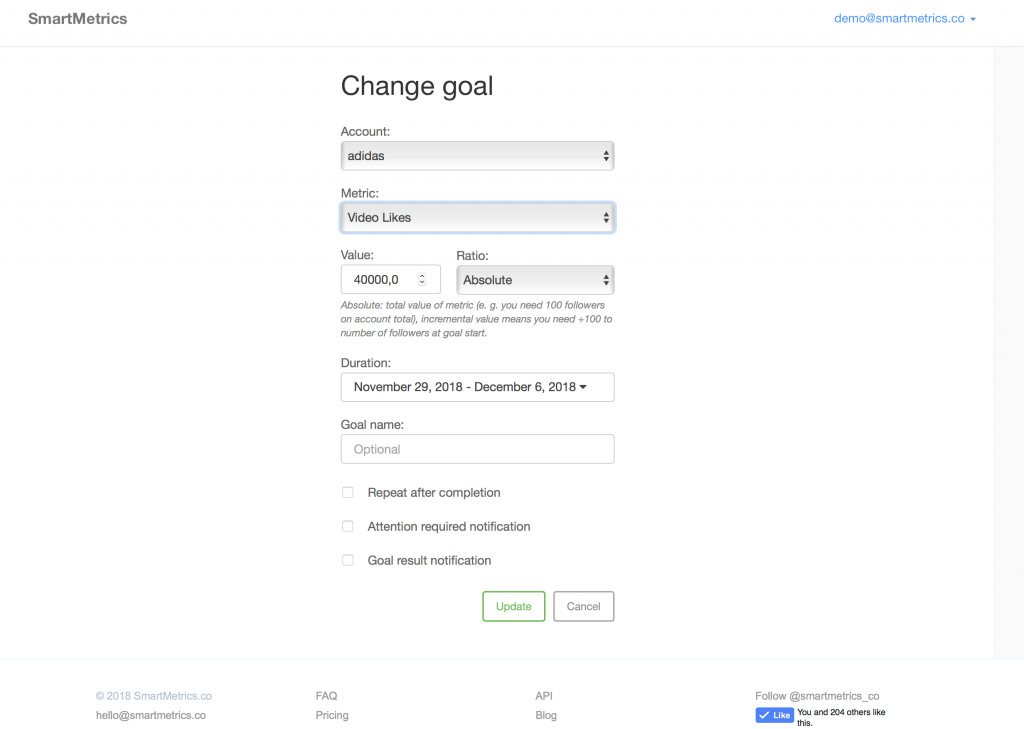 To adapt the goals order on the page up to your necessities you can sort them by username, goal name, time left, or progress.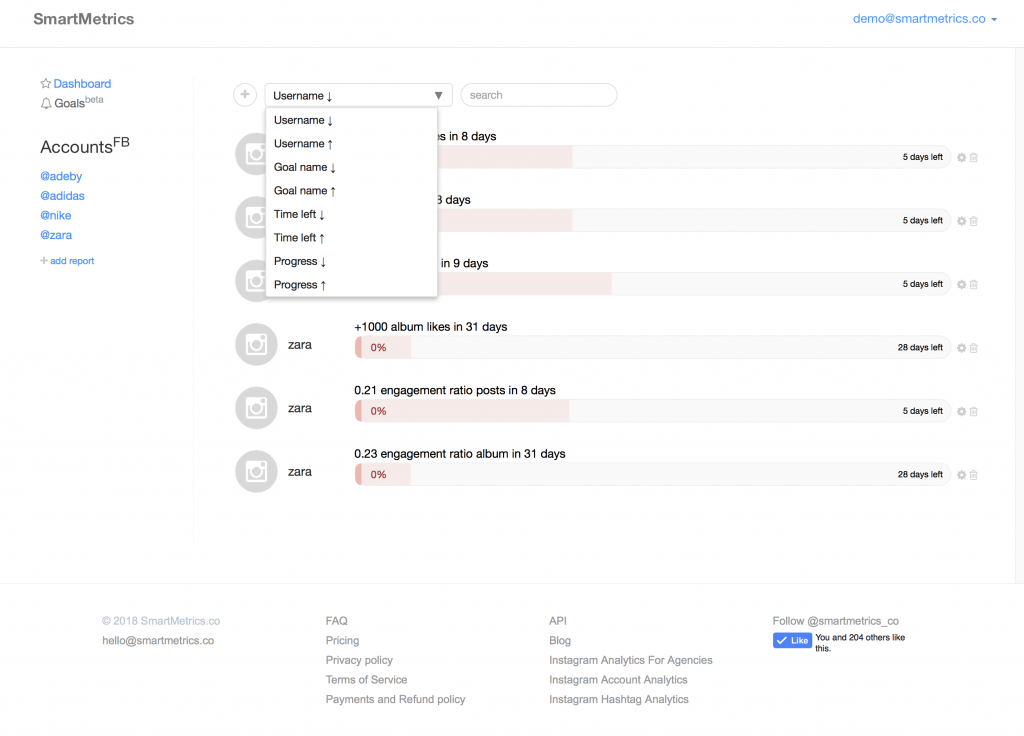 You can create unlimited amount of goals using any of your tracked accounts. The amount of tracked accounts are regulated due to your chosen pricing plan.
The team of SmartMetrics hope that our new Goals feature will simplify your everyday work and you will find it effective and practical.  We also will be glad for your feedback for using Goals and ideas for its improvements.