Ways of promotion in Instagram
Content and dialog with the audience
Geotags
Mass following and mass liking
Choosing best time for posting
Gamification – contests, maraphons, sfs, flashmobs.
Working with top bloggers
Cross-PR, comments with references
Advertising.
Cross-posting
Quality content
This is something to begin with. The more interesting you are, the more people subscribe to your account. Find a creative idea, a concept of your brand, and produce photo content in a certain style. Be sure to think the texts through. The "personality" of brands is now trending, that is why many businesses base their actions on the popularity of personal brands of their founders.
Use texts to motivate your audience for dialog, to involve them into discussions or arguments. Answer all comments and do not delete negative reviews. You can offer your subscribers some rules of conversation.

Geotags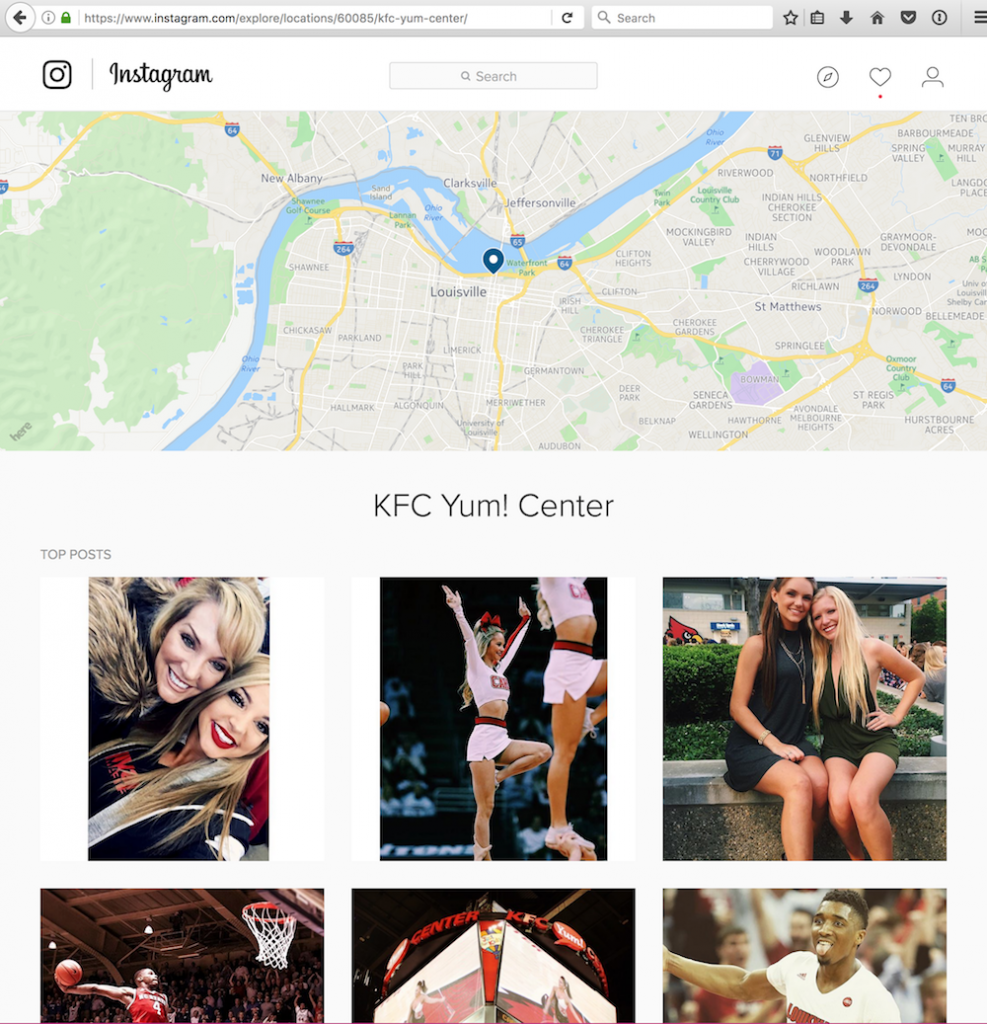 Add geotags (i.e. references to the places where your photos are taken) to poses. This is especially important for local businesses and network companies with several offline sales points. Geotags mark your poses geographically, and if someone browses for photos from a certain area, he or she will see your pics.
Mass following and mass liking
While hashtags are almost dead, mass following and mass liking still work. Imagine that you want to attract people's attention. To do so, you like their posts and subscribe to them. This is a completely normal situation for an average user, but for businesses it has a larger scale.
To attract attention to your account, you have to be proactive: subscribe to the accounts of potential partners or customers, use hashtags to find relevant accounts, like and make comments.
Pay attention! Comments like "We are a pizza place and we sell pizza" are spam. Do not spam even if you really want to.
Instagram officially prohibits such services and may ban an account for using them. We do not encourage you to do so and want you to understand the ramifications of using such programs.
Posting time
The time of posting has a huge impact on the promotion of a post. An Instagram post "lives" for about 4 hours, and after that it moves downwards in the feed. Learn the hours during which your subscribers are at the peak of activity. Publications made at that time will have the biggest reach.
According smartmetrics.co analytics a post gets 46% of comments and likes during the first hour. There is no need to post more frequently than once every 4 hours. The new model of feed ranging did not affect the time of posting. Here, like in the case of hashtags and geotags, the speed of liking and commenting is crucial.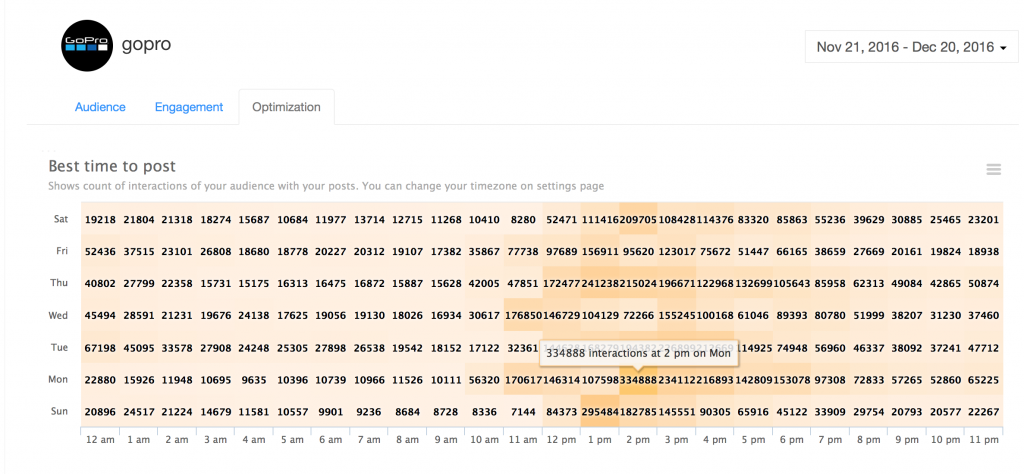 Analytical services will help you determine the best time for posting. Use them to analyze the peaks of your subscribers' activity and decide on the perfect time for posting.
Cross-posting
If you have a Facebook group or Youtube channel, add cross-posting. If you ask your friends to subscribe to your Instagram account, you will get about 300 subscribers instead of 0. Much better.
Gamification
Different actions, draw games, and marathons cheer the existing audience up and bring new followers on board.
Marathons. This means of attracting subscribers is currently actively used on Instagram. A marathon is a kind of a club with paid participation. Bloggers unite, deliver a lot of useful information, give tasks, and the participants share the results in their accounts. You can either organize a marathon or support the initiatives of the others. You bring prizes, and the organizers give you advertising.
Draw games. Whenever someone leaves a comment or reblogs a post, he  or she participates in the drawing of something nice.
Flashmobs. Unlike marathons, they are free for the participants. The mechanics is as follows: post the results of your actions in your personal account using certain hashtags. This helps increase the reach. In order to attract the customers you may organize a flashmob yourself or offer a prize.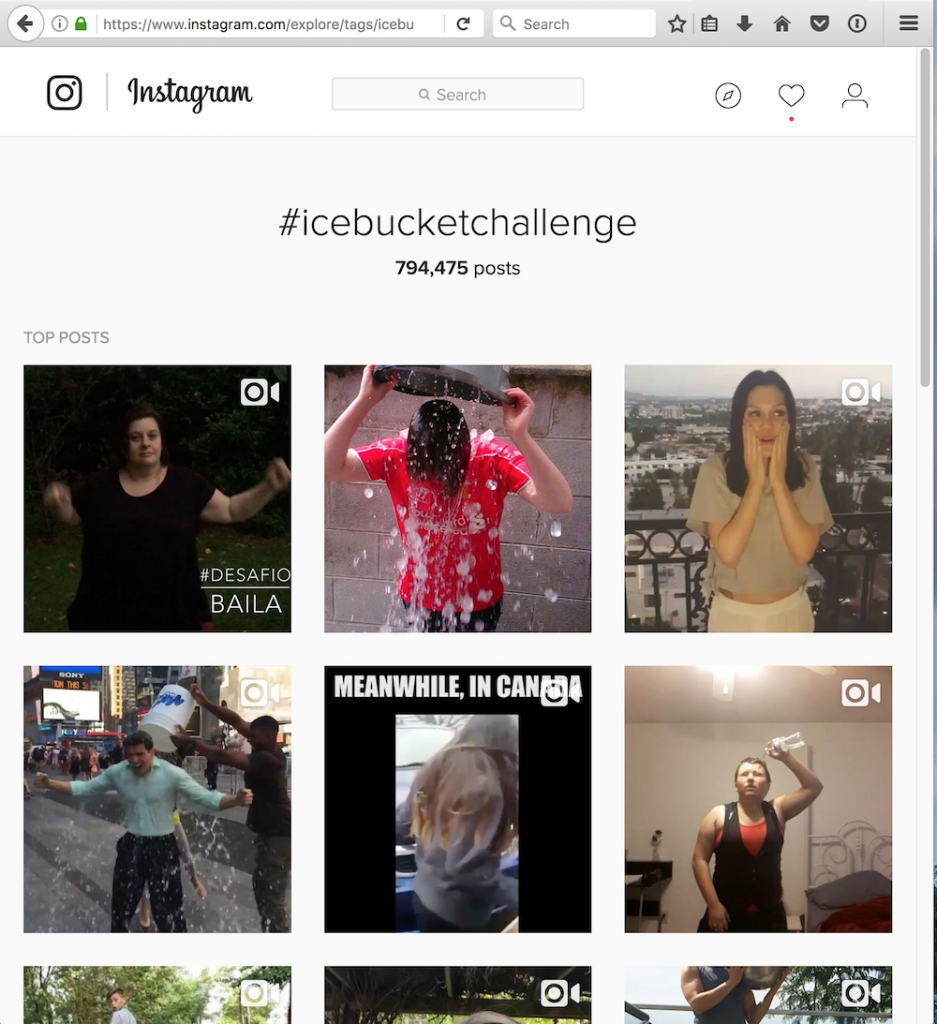 (Ice Bucket Challenge flashmob on Instagram)
Opinion leaders
Communication of an opinion leader or a popular blogger is useful for everyone – both for the advertiser and the blogger themselves (this is actually the reason why some people become bloggers in the first place). What you need is to find a good blogger with your target audience as subscribers and to discuss the picture and the text in advance. The posts that are obviously commercial are usually irritating.
Targeted Instagram advertising
This is a topic for a separate article. The idea is that you tune the audience for your advertising posts yourself. If you do everything right and publish a good post, you will see your audience increase considerably.
Targeted advertising should be regulated in a Facebbok advertising account. The rules are the same as in Facebook advertising. To promote posts via your account, link your Instagram account to a Facebook group in group settings. If you don't have a Facebook group, create one.
After linking you will be able to promote your Instagram posts via your Facebook advertising account.
Stories — what are they, and what's in them for business
Stories are a relatively new Instagram function that was introduced on August 2, 2016. Using this function, one can publish photos and short video clips adding to them funny stickers and texts, use gifs and speed-up videos, felt pens, emoji, and several standard clip-making techniques. The point is that in 24 hours your story is deleted. The function is used in the latest version of Instagram (if you haven't updated yours yet, do it now). See details in the instruction:
1 Tap + in the upper left corner and your avatar with +, "add story" signs
2 If the avatar has a red circle, you have not watched the story yet.
3 The red circle is lost – the story has been watched.
Stories are something you see on top of your feed before all posts. This is the function of Stories businesses can use.
Stories are available to all subscribers, and if you use special visibility settings, they will be shown only  to those subscribers whom you want to watch it.
When you are on top of the feed, your visibility increases.
Using Stories to promote your Instagram
Greet your subscribers (to increase loyalty)
Tell about a one-day action that starts today
Demonstrate a  new product
Tell how a product was created (audience loves backstages)
Try posting short interviews and user stories.
Tell about a contest and encourage participation in it
Shoot a mini-series
Make daily Stories, e.g. with pieces of advice
Post hints for a contest and remember that they will disappear in 24 hours
If you want to keep a post for over 24 hours, make a mark in settings, and all materials will be saved on your smartphone.
Conclusion
Like any other promotion tool, Instagram requires a well-thought comprehensive approach. It means hard work. But you will get interested before you know it, and the results of your work will be up soon. Include Instagram into your marketing strategy, make it a full-scale sales channel, monetize your blogs, develop, and good luck.