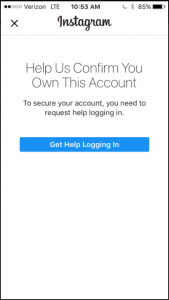 Sometime some users face strange issue at Instagram login. Instagram says "Help Us Confirm You Own This Account". We made step by step guide that solves this problem for most users.
Please follow this step by step guide.
Open https://www.instagram.com in browser on your computer or laptop.
If you are logged in Instagram with some account you need to log out.
Open link https://www.instagram.com/accounts/password/reset/  and enter credentials for account you need to restore access.
Check your email and find message from Instagram. You want to click "Reset Password".
Enter new password, confirm and don't do anything on Instagram.
Check your email again and click "Secure your account here" in message from Instagram.
Confirm your data and after that you'll be able to login.
Hope this guide help you to get access to your account.